After two years of painting flowers, landscape and freely improvising, I was hooked to painting with no return. I decided to deepen my learning about painting and about myself.
To diversify my work and enrich my skills, I started searching for subjects which will resonate with me on a deeper level and was convinced that I do not need to try hard to find them because life will offer me such opportunities.
I was right, one after other, opportunities appeared, and I tried to reflect them in my paintings. It is interesting to notice that inspiration can come to us in many forms, from real sources or imagined. It communicates with us in different ways, on different levels, each time enriching painter's experience, giving reasons to increase observations, learn and create.
Mercer Island Sunrise
One night in 2007, soon after I started painting, I woke at night, looked at my window and was astonished to see a very bright, unusual, unbelievable green sky, I had never seen before. It was separated at the horizon by a narrow deep yellow-pink-orange sparkling band from a deep ultramarine shades of the trees and buildings of the Mercer Island City. It was like looking at an attractive, contemporary painting of unusual beauty. With my heart still pounding of seeing pleasure, I went back to sleep, but the emotional impact of that image, I could not forget, it stayed fresh with me and later I revived it and tried to represent it on paper.
I want to say that at the bottom of my approach to painting are my emotions, they are driving my imagery, not my intellect, rational thinking.
Hiking Trails
While hiking in the nearby mountains (2009), I always observed nature, looking for subjects to benefit my paintings. I searched for subjects which will help me to express myself in a more personal, original way. Walking on trails my attention was drawn to abundance of tree stumps and the diversity of tree bark, which I introduced in my paintings. (2009), Barksture 1,2,3; Stump Fantasy 1,2,3,4) Interesting pieces of found wood, inspired several other paintings to be seen in the 2009 Gallery. In 2010, I joined four small paintings inspired by bark into a rectangle 20"x 80". My experience in joining small paintings consolidated and later, in 2015, using the same techniques, with planks and screws, I joined nine small paintings, in 2016 one, and in 2017, I made one diptych and three triptychs.
Stones of Jones Island
In 2008 a visit on Jones Island in Puget Sound, surprised and impressed me, revealing along the shore, powerful, strangely shaped old stones, modeled by water. Being in transit, not having time to carefully look at them and understanding them, I made photos to study and paint them later at home.
Soon I painted several small 20"x 20" canvases, carefully recording stones' strange shapes, modeled by eroding forces of water. Being unhappy with my small paintings, obsessed to change them to a larger format, one year later, in 2009, I joined permanently, six of those small paintings in a significant bigger painting 40"x 60″ by using small wooden planks and screws. Since 2009, I frequently applied this trick to obtain larger paintings, making larger diptychs and triptychs with a stronger impact on viewer. This way, I could hide from viewer my disappointment of not having enough space to paint directly on larger canvases.
Klondike Gold Rush
A borrowed book from the Library, about people who sailed from Seattle to Alaska, to climb the frozen slopes of Yukon Klondike to search for gold and make themselves rich, never knowing for sure, if they will find it, or will safely return home, deeply touched me, and inspired three paintings. I was deeply impressed by this episode of American History. In one of the paintings, painted symbolically in a decorative, stylized style, I depicted the snow-covered mountain pics of Alaska, the sieving pans to separate nuggets of gold from dirt, the chemical structure of gold and finally, the nuggets of gold transformed into a pile of money, enriching the owner.
Antelope Canyon
In 2014 my son planned a visit to Antelope Canyon – a slot canyon on Navaho Indian territory, in the state of Arizona. Still recovering after my spine fracture, I declined the invitation, but promised him to try some paintings if he will provide me with good photo images. Looking at photo images is informing, but has a much less visual impact compared with the emotional power of a real encounter with nature's wonders. I completed my knowledge about Antelope Canyon by reading and learning on Internet. The slot canyons are underground deep, narrow, dark hollow slots, starting as a thin crack in the lime rock and in time, greatly enlarged by eroding flooded water. What impresses the viewer are the monumental scale of the patterns of water erosion.
Bombing in Syria
After watching on TV reporting and images taken after a bombing raid of a Syrian city, painfully observing what was left of what initially were normal, apartments buildings, nesting Syrian Holly families living their normal life, pulsing with children's laughter, surrounded by food and dreams for the future, I was profoundly disturbed realizing the monstrosity of what happened.
After bombing, life disappeared, replaced by dust, fragments, and desolation. How can I express in my painting my sadness, my distress? I thought that showing the destruction, was what I need to do. Being true to my feelings I painted the disaster and colored it with sad, depressing colors. To my surprise, it was so depressing that I could not look and stand it, without enhancing my pain, pulling me to a deeper depression. I wanted my painting out, away of my way. I realized that my former decision to paint the misery of after bombing was plain wrong. The role of art is to help human beings to escape the misery of real life, to bring pleasure, a smile, beauty, hope, to sustain their morale in difficult times and enhance the believe in a brighter future. Matisse powerfully said that the mission of his art is to bring joy to viewers.
I took a wrong pass. Can I correct it, change it? Can I avoid being a failure? First thing which came to my mind was to change the palette, from depressing color to optimistic ones, to make it bearable, acceptable to look at it, without pain; also, I changed the title from Bombing in Syria to Rattle, and it worked. By changing the colors and title, the painting's message changed from desolation to a view with hope. It was a learning lesson.
The Outer Space, a Recurring Theme
In the first year of my painting adventure (2006) I was surprised to discover among my spontaneous paintings an Outer Space theme. Later, it sporadically reappeared, revived itself. Why this theme is so attractive to my subconscious? Probably out of curiosity for unknown, and wonderment about what surrounds our planet moving inside an infinite unknown space. You cannot look at the night sky without being drawn to a deep emotional trance, feeling yourself part of a huge, incomprehensible scenario. It is uplifting to realize that we, humans, tiny creatures on a tiny planet in a huge cosmos are trying to have glimpses, to understand what is happening high above in the sky.
Reading Neil deGrasse Tyson's book "Astrophysics for People in a Hurry" gave me some insights of what science knows about black holes, dark matter, dark energy and other observed and studied phenomenon in the sky and triggered a desire, to involve my creativity to make them imaginable, easier to be understood, than real, proven, science. In 2019 I dedicated two paintings to Outer Space: Cosmic Happenings and Sky Magics. In 2020 another four paintings were linked to Outer Space: Cosmic Sign, Night Sky, Dynamic Energies, Hidden Sky1,2.
Cosmic Sign
During the last days of 2019 I started working on a new painting, inspired by the approaching New Year 2020. It refreshed in my mind some memories of Romanian New Year traditions from my childhood.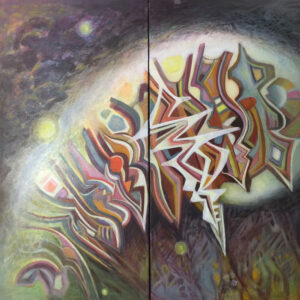 Instead of a traditional Romanian Sorcova (a decorated small branch of a tree, presented to each house gate by singing children, reciting, and shouting New Year's wishes, I imagined high, above in the sky, a miracle, wonderful, huge cosmic sign, like a super large illuminated comet, decorated with some hints, inspired by Romanian popular art motives, traversing the sky, for the entire Planet to see, while listening to celestial music broadcasted by every station on earth, welcoming New Year.
It is interesting to observe that other paintings done early in 2020 are dealing with Outer Space, proving my untamed attraction to this subject.